Starting as a "women's workshop" with a contract to sew shirts for the Italian army, the young women followers of Father James Alberione began collaborating with his Printing School to produce catechisms at an affordable price. In addition, they taught religious education classes at their parish, but soon stepped into staffing their own "New Bookstore" and, with the assistance of two boys at the School, sold books at the doors of churches.
Father—later "Blessed"—Timothy Giaccardo, who recorded the early history of the Daughters of St Paul, stated that this "experiment…was destined for widespread development and was meant especially to help the parish priest in the formation of the religious spirit in the parish." Later he added, "The priestly character of the Good Press penetrated [the women's] spirits also by way of the heart. For the souls belonging to Jesus, they did at the doors of Jesus' 'houses' what the priest does from the pulpit or from the altar…."
Clearly such an enterprise required a profound spiritual formation, as well as intellectual and professional training. While these latter two requirements were acquired gradually, from day one no effort was spared for the former. Without spiritual growth and without the prayer to support it, the "experiment" would have been nothing more than a house of cards without a foundation or a future.
Not everyone shared their enthusiasm. By early 1918, Fr. Giaccardo recalls, "only the first one to enter remained; all the rest left, either because their relatives had no trust in the newly founded house…or because they found the idea of women printers too unorthodox, and therefore unfit for their daughters. In the end, only four of the group remained." Teresa's brother, Costanzo, a priest of the archdiocese of Alba, was ridiculed also by other priests, because his sister was associated "with the Theologian." Teresa herself was to write:
"Criticism from people was not lacking. Everybody wanted to know….How many times they came to the bookstore and asked endless questions. We had to study how to answer….There were those who asked questions and expressed approval; others (and they were the majority) criticized and ridiculed us.

"With God's grace, their disapproval only had the opposite effect on us. We confided everything to the Theologian. Just a word from him was enough to keep us serene."
Within six months, an invitation came from the foothills of the Alps: The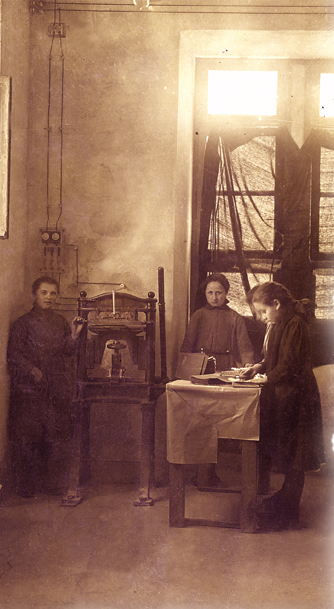 bishop of Susa wanted to resume publishing the diocesan paper for the Susa Valley, and he called on Fr. Alberione for his help, who in turn, asked the young women if he should accept in their name. They were painfully aware of their limitations, but they trusted that God would compensate for those, either directly or through the knowledge, resources, and goodness of others. After the sudden, heartbreaking death of 26-year-old Clelia Calliano, a victim of the Spanish flu following the war, Angela, Teresa, and three girls prepared to leave, saying that now they had only God to rely on.
Teresa wrote: "At the moment of departure we all gathered around the Theologian….We knelt and he blessed us: he was visibly moved, and we were in tears. What a solemn moment! How much courage that blessing gave us! I still seem to feel its effects….
"To this day I remember the words the Theologian spoke to us before we left: 'Go to Susa; you will stay there for three or four years hidden and in silence; you will grow in strength and later on you will launch out to do good elsewhere….'"
In subsequent years he often said that "our life in Jesus Christ is always begun as Jesus began—in the manger." Fr. Giaccardo wrote that "The Daughters of St. Paul had an even more humble and hidden beginning than the Society of St. Paul. They too were born without a name, without a home, and without anyone's notice"—just a burning desire to dedicate themselves to the good press. In fact, by 1918 the tiny community called themselves the Sisters of the Good Press. However, witnessing the utter trust they had in St. Paul, who protected them from one mishap after another, the people of Susa referred to them as "daughters of St. Paul," and the name stuck.
With wisdom beyond their years (Teresa and Angela were in their twenties) they did not feel constrained to defend themselves or justify their existence. They were transparent and free, free to be who God called them to be. Their prudence, whether intentional or dictated by their situation, was measured, but not born of fear. With profound trust in God who called them together, their conviction and their passion for Jesus, his Gospel, and "the new means" empowered them to establish their community in the Church with joy. By 1922 Teresa Merlo, became Sister Thecla, the first superior of that community.
Silence is the cradle of communication. Far from passivity, it's an active listening. It certainly was for those pioneer Paulines.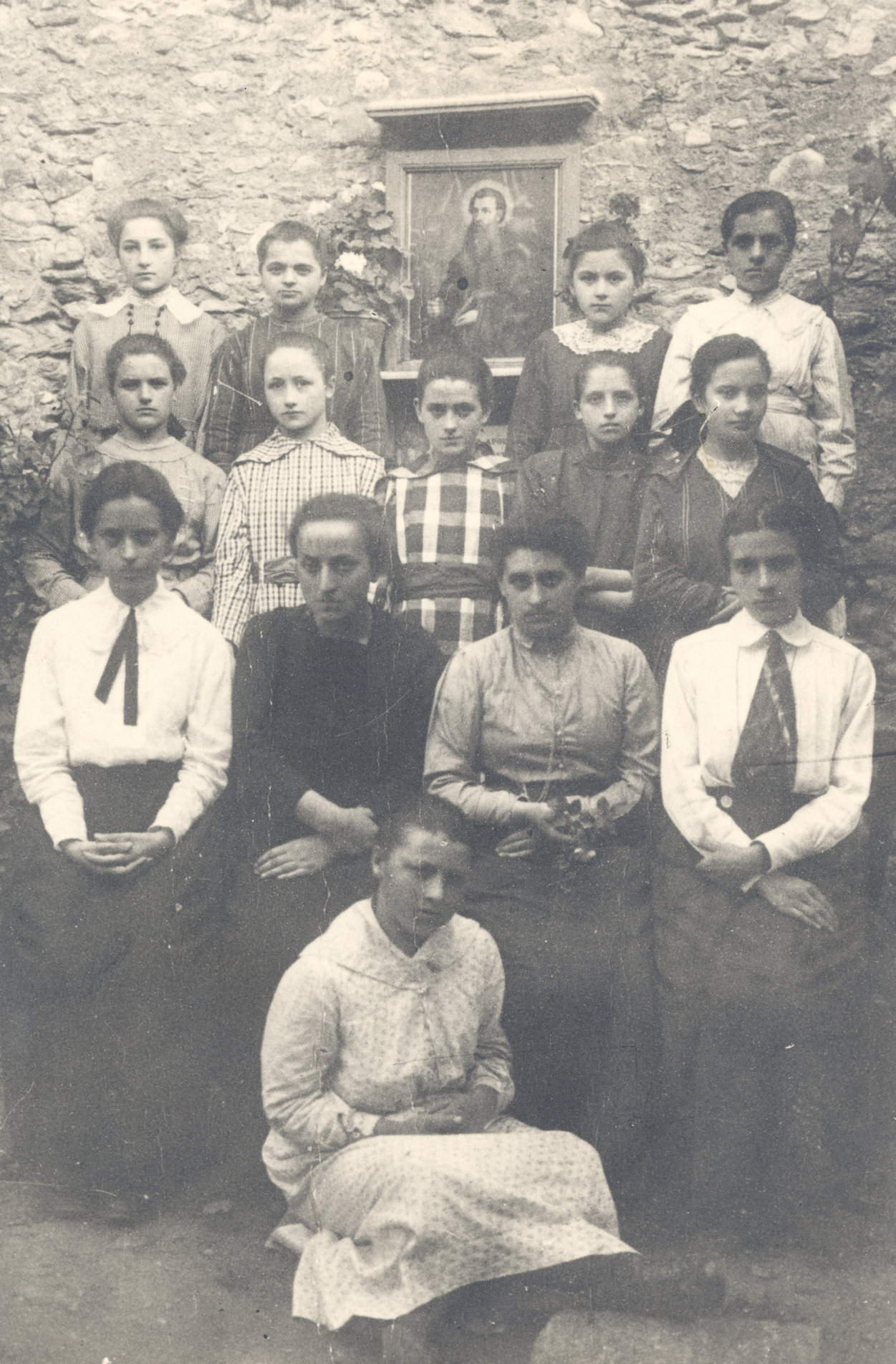 They testified, for example, that when "the Theologian" broke the bread of the word for them, they devoured it. But then what? "We remembered [his words], repeating them now and then to each other…." Because the word they consumed couldn't remain in the cradle of silence forever, they shared that word with each other, allowing it to take even deeper root within and among them. In this way, their communication came of age, and when they spoke to others outside the community, it was a word and work of faith.
How often we object when asked to share the faith we hold: "I'm not called to that! I don't know what to say!" Believe it or not, Fr. Alberione used to hear the same thing from some of us. His answer? "How can [you] say, 'I don't know what to write about' when the world is starving for the crumbs of what you know?" He could say the same to every informed believer today. In his mind, after sufficient study and prayer, it was time to hit the streets, the pressroom, the editing table, the air waves, and today he would add, the digital highway. As with Paul the Apostle and every evangelizer since, the word would mature as it was shared. As the saying goes, if you want to learn, teach.
Even so, at least initially, God had to practically push them out into the public eye. In Susa, their poor dwelling and workshop caught fire early one morning. After rescuing them, the people of the city continued to respond to their needs: some took them in until they could make their house habitable again. Others gave or lent them what they lost. In the process, the community shared its ideals and joy with those who assisted them, giving them insight into who they were and what they were about. Sr. Thecla wrote, "I think the Lord permitted all this in order to make our Susa community better known, for until then little was known about what we were doing." God, without willing disaster, is a master at using it for good. These first sisters may not have had a developed knowledge of Catholic philanthropy, but they experienced what Paul had also touched with his hands—that when people come together for the Gospel, everyone gains.
Photo: Top: the workroom in Susa where the young women prepared the pages of the diocesan newspaper for distribution.
Lower: The first community of sisters and young aspirants in Susa (Teresa Merlo is in the front row, far right), with their ever-present image of St Paul. Is it any wonder that the people started calling them "St Paul's daughters"?